Jan 02, 2013
AUTHOR: Suzanne Bishop
Women's Circle
In Honor of the Year of the Water Snake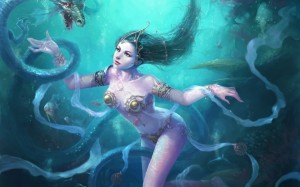 In honor of the feminine principle, I am opening up my home to women of Pittsburgh and beyond to help call in the new wave of feminine energy lifting our planet right now.
Planetary markers, and an inner human longing for the feminine in action calls for the grouping together of like minded spirits and minds. A nice link to check out these ideas can be found http://www.divineharmony.org/cosmic-insight/astrology-blog/1262-2013-the-year-of-the-goddess
That said, I began opening my home on January 13, 2013 for a few hours to all women and girls who want to be synced into the feminine vibe that is transcending and transforming our planet right now.
Come join us in celebrating our creativity, our spirit, our health, and our visions together in a unity of feminine intelligence and love. The Women's Circle is inclusionary, participatory, and experiential.
Next Women's Circle
March 10, 2013, 3pm to 6pm (Sunday) Monthly gatherings depend on everyone's schedule.
7728 Abbott Street, Pittsburgh, PA 15221 (near the corner of Forbes and Braddock)
Contact: Suzanne 412-576-9175
Each Circle will include the following in a form that suits itself:
Art
Dance
Meditations
Music/Singing
Intuition Circles
Healings
Sharing
Please bring a drum, or other instrument if you play. We are all teachers and players upon the earth, everyone contributes. YIN just is . . .
Upcoming Stuff
See my spirit drawings on my gallery . . . SPIRIT!
Look forward to many new workshops coming up for Winter 2013. (Year of the Water Snake)
The Sacred Feminine–Journey to Feminine Power for Women and Men

I will speak from my psychology education and background on how women have unique ways of experiencing and expressing themselves spiritually. I will go into the idea of the various facets and faces of the ancient feminine archetypes and how they are expressed in our modern age. Learn how to recreate yourself, not based on worn out feminine myths, but by real feminine power that lies within each woman and man. References to female symbols and dreams will be incorporated.

Mandala From the Heart

Make these great mysterious circle designs for fun, pleasure and to be used as a meditation tool. Think of the mandala that you create as your own unique visual mantra.

Develop YOUR Intuition–Using Art, Sound, and Healing
Find your source (active) button for intuitive development.

Smoke Drawings 101

Learn how to make and interpret smoke drawings. They will guide you to new realms of understanding symbols that are unique to you. Anyone can do a smoke drawing. Interpretation of what you get is fun and informative.
LOOKING FOR LOCAL ARTICLES TO POST ABOUT ART, SPIRIT, CONSCIOUSNESS AND PEACE. CONNECT WITH ME THROUGH THIS WEBSITE IF INTERESTED. TY!